Meet me on Monday is hosted by the lovely Java at Never Growing Old
Pop over to see Java on her busy blog and join in to meet new friends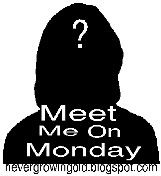 This weeks questions are :
1. What is your favorite kind of potato chip?
Sour Cream and Chive
2. Do you make your bed everyday?
NO. My partner works nights so he gets into bed as I get out. We meet up at weekends ;)
3. How often do you go to the hair salon?
I have a trim about every 6 to 8 weeks. My hair is so unruly it doesnt seem to make much difference. :(
4. What do you dip your French fries in?
Mayonnaise, of course! If it is steakhouse chips then salad cream.
5 Do you shop with coupons?
Yes, every little helps. Look after the pennies and the pounds will look after themselves.
DizzyC