It's Friday!!! Yay!
Not that the weekend is really any different for a stay at home mum but I do get everyone at home for the weekend.......mmmmm, so that means they are under my feet whilst I do my housework, shopping etc....
Check out today's guest author - Jean Fullerton here
and Red Nose Day book news and a chance to win a signed book Red Nose day link
Jennifer says...
BBH turned 1 year old on March 5! I can't believe this book party has been going strong for over a year now! Thank you all so much for making this meme such a huge success! So, let's party a little extra hard this weekend to celebrate such a huge accomplishment! The Book Blogger community ROCKS!
"Do you read only one book at a time, or do you have several going at once?"
I am a one at a time gal when it comes to books.
If I am struggling with a book I may put is aside, read another book and come back to it. That is why my Goodreads or sidebar may show more than one book.
So, I could say that I sometimes have more than on book on the go.
How about you?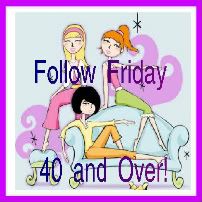 Java says......Are you a blogger over 40? Yeah, welcome to the club!

Please join in the fun and get to know your fellow bloggers!!

If you are new here, please take a look around and leave me a comment and I will come to visit you.